Leading the industry in Western Canada for road, parking lot, industrial site, transit zone, intersection and airport concrete paving.  Concrete paving is durable, sustainable, low maintenance and has an extended life cycle while eliminating potholes and rutting. 
More and more municipalities are adding roundabouts at critical intersections because they are proven to be safer and a much more efficient way of moving traffic.  Concrete paved roundabouts can be designed to feature a retaining wall or beautification focal point in the centre.  For intersections that have high commercial truck traffic, concrete paved roundabouts are the perfect choice because they are so durable and have a design life of 40 years or more.
Bonded concrete overlay is an good option for intersections and heavy stop and go traffic areas.  By spreading a thin layer of concrete over these areas, it offers durability and an extended life cycle and helps to prevent the road from creating potholes and rutting.
Concrete paving is recommended for:
Parking Lots / Parkades
Industrial Sites
Loading Areas / Warehouses
Roundabouts / Traffic Circles
Roads / Intersections
Airports
Recent Projects: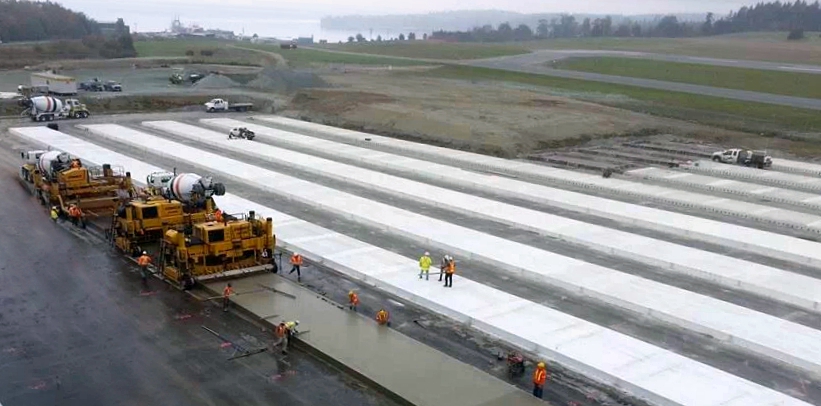 Airport Concrete Paving: Victoria International Airport, Victoria, BC
---
Bonded Concrete Overlay Paving: Cummins, Fort McMurray, AB
---
Roundabout Concrete Paving: Highway 2A by Springbrook, AB
---
Awards:  Proform is the proud recipient of the American Concrete Institute (ACI) 2017 Award of Excellence in Concrete in the category of Advanced Concrete Construction for our work on 67th Street and Johnstone Drive in Red Deer, AB for the first fully concrete paved roundabout in Western Canada.
---