Proform's story began in 1975 with a family formed company named HEB Developers Ltd.  By 1979, three Gomaco Commander III Concrete Slipform Pavers were in hand and the company continued to expand into the mid-eighties.  In the late 1980's, HEB Developers Ltd became Proform Concrete Services to enable expansion into a larger variety of products and services.  A Precast Concrete Division was formed and in 1990, Proform purchased a 28-acre site southwest of Red Deer in Gasoline Alley complete with 17,000 sq ft manufacturing plant.  With continued growth in the 90's, there were two expansions of the Precast Plant and the addition of several more Concrete Extruders. In 1999 Proform began their first concrete paving job at the High Level Airport.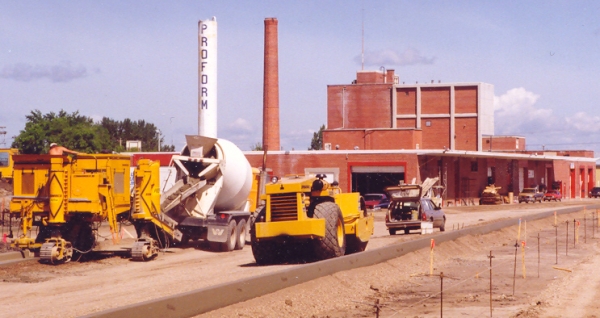 In 2011 Proform began supplying waterworks products such as plastic pipe, water valves and fire hydrants. These products were complementary to products that we were already supplying such as concrete manholes, catch basins and vault structures.    
In 2014, we expanded to include decorative concrete finishes to existing hardened concrete surfaces. Some of the finishes we offer are grind and polished, colored epoxies, acid staining and cementitious toppings. 
In 2018 we continued to grow.  Part of our planned growth has been the expansion to start manufacturing concrete pipe.  In early 2018 we began the process to build a competitive pipe product by applying our experience from manufacturing quality underground products.  Proform has made a significant investment in our future with the purchase of new forms and testing equipment that will allow us to produce high quality concrete pipe. 
On February 26, 2018 Proform Concrete Services acquired Vic's Concrete Finishing in Red Deer, Alberta.  Proform saw a great fit with the expertise that has been built up through Vic's Concrete over its more than 30 years in business.  Through this acquisition, Proform will add to its extensive portfolio by growing the reputation and exceptional services that Vic's achieved consistently well. 
On May 31, 2018, Proform Construction Products acquired the assets of Key Concrete Products Ltd operating in Calgary, Alberta.  Key built its reputation as the market leader in Alberta for custom precast steps.  Thusly, this acquisition offers Proform an opportunity for expanding our inventory of precast products to better accommodate our clientele.
In June 2018, we expanded our services to include bridge decks.  This exciting new opportunity took us to Meeting Creek, AB where we completed our first deck. The two-step process took place on an existing structure and was completed successfully on time and on budget.
In July 2018, we rebranded the divisions of Proform to convey a stronger and clearer presence as we expand into new and existing markets.  The new identity meets the expectations to be more cohesive while simultaneously moving the brand forward.  
In May 2019, Proform Construction Products purchased Norstair Precast Step Systems.  The decision for Proform to formally acquire Norstair Precast was a natural fit as the precast steps they sold were exclusively manufactured in Proform's Calgary plant.  We were thrilled to have the Norstair team join Proform to help expand on our construction packages in the Edmonton and surrounding area.  For more on this acquisition please see: https://edmontonjournal.com.
Later in the year, Proform signed a Purchase Agreement and Distribution Agreement with Emco Corporation's Western Canada Region, allowing divisions of Emco Corporation including Emco Waterworks and KANN Supply to acquire all Proform's waterworks inventory and gave the same divisions rights to stock and distribute Proform's precast manholes and catch basins at each of their locations.
Today, Proform is the largest slip-form concrete contractor and market leader for custom precast stairs in Alberta.  Proform Construction Products has locations throughout Red Deer, Calgary and Edmonton where we manufacture and distribute quality precast products for construction, industrial, commercial and residential sectors throughout Western Canada.  Proform Concrete Services offers concrete solutions for transportation projects throughout Western Canada and the Northwest Territories.
---